About
Hi, I am Katie the owner of KnittyKnotts. I am the designer, creator and sewer of all things embroidery. Ever since I was young I have always enjoyed the art of hand embroidery, whether it was from tapestry or cross stitch, I've never felt more at ease than I do when I have a needle and thread in my hand.
KnittyKnotts is run from my home here in Lincoln, Uk. It's fitted in around my loving husband and mini girl gang. I have no set working hours because I am pretty much addicted to creating beautiful pieces. You could say I live and breathe embroidery or you could just say I'm an addict.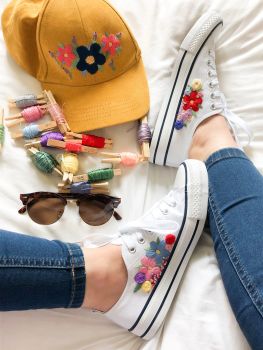 Shoes of dreams
When I'm not with needle and thread in hand (which is hardly ever) I can be found over on Instagram or rocking around the UK in a caravan (yes I really do have one). So thats me and my business in a bit of a nutshell. Thanks for popping by.
Much love
Katie
xx