Going On An Adventure to Nostell Priory
Posted on
After a week of being pretty much in lock down due to a rather poorly Eva, a family day out was so very much needed! Now don't get me wrong lounging in bed watching movies eating toast was a welcome treat, I have had harder weeks if I'm honest. We are a family who love to go on an adventure whether it's to explore a woods or body boarding, it's just how we do our family bonding, that and arguing. We have been National Trust members for a few years now and it has been an absolute gem especially when we are away holidaying or saving pennies and in need of a free day out. Living in Lincolnshire there isn't too many National Trust hot spots. We do Clumber Park and Belton House on a regular basis, but this weekend we wanted to venture a bit further a field and somewhere new. So with a pack lunch packed we packed our wellies and headed off to Nostell Priory in West Yorkshire.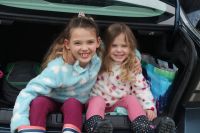 The one thing I love about National Trust is how it's geared up for children, with their 50 things to do before your 11 3/4, special activities for the family and not to mention how welcoming the staff are with the girls. Nostell Priory didn't disappoint. Its adventure playground gave our girls plenty of deep belly giggles, from going higher and higher on the swings to conquering the zip wire. With a coffee in hand Mr K and I were already onto a winner.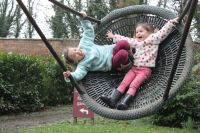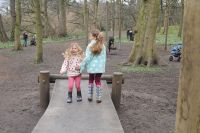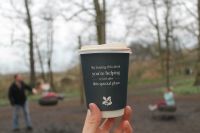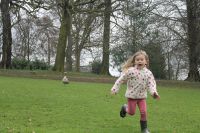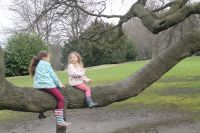 With it being a lovely spring dry day (yes you did read that right) it was perfect to stretch our legs, tire the girls out some more with a little walk, which shockingly enough didn't result in a threenager being demanded for a picky (carry), before heading into the house for a good old nosy.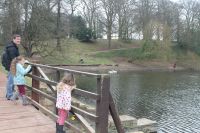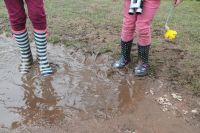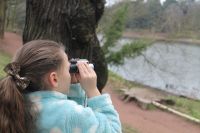 I love going around an old house imagining how the other half lived and I think the girls do to, it's the nosy neighbour in us. With a 7 & 3 year old in tow it can be quiet boring, not to mention a struggle to keep well behaved and refrain from touching items that shouldn't be touched or pointing out the boobies and winkies on the statues, but thanks to the staff for getting them to search out the dolls house it kept them easily amused.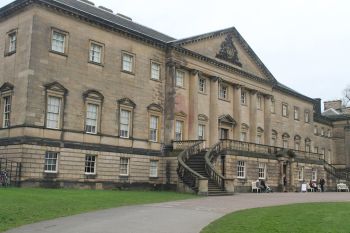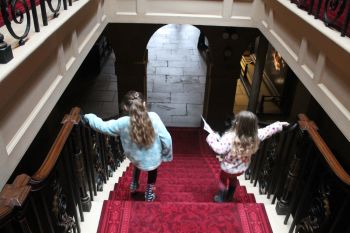 It is definitely a place we will be going back to, we need to expolre the Parkland some more perhaps with our bikes next time and one that not only the girls enjoyed but not as much as me and the Mr because it made the girls sleep all the way back home.
Muchas love
Mrs KnittyKnotts
xx
Thinking of becoming National Trust Members? Click here for some more information