Happy New Year And All That Jazz
Posted on
The year 2016 is finally here which means we've all made it through the joys of Christmas, hurray I hear you cheer. The Christmas decorations are down and routines are back, no more lounging in pyjamas all day scoffing chocolate. A new year often means a time of reflection, we look back on the year and way up whether or not it's been a good year or one which we would rather forget. It's also a time were we make promises with ourselves to get more fit, to eat more healthy or to spend less money. Well I'm not making any crap promises like these except the saving money one that seems a good idea even if a bit unrealistic. I mean what's the point, we will only do them for a fortnight, a month max then go back to our old ways because it's far more easier. No, I'm not going in for all that twoddle, I do want to make some changes though. We spent most of 2015 on full speed, work hard play hard and boy did we play hard. We headed away most half terms in our trusty caravan making so many magical memories together as a family, my favourite memory being when Eva pooed, yes pooed in her daddies shoe, we've laughed together and learnt together and it really has been wonderful but even though we've done so much I want to spend time together at a slower pace. I want to enjoy watching the girls grow without all the rushing around and stresses busyness brings. In a blink of any eye my girls have grown, if I blink again I fear I will miss something. I want to pause on life's moments and soak up that warm fuzzy feeling when you could burst we pride and happiness that your dearest loves can bring. Our 2016 shall be spent more at home together making memories here instead, spending more time with family and friends something which we didn't do a great deal of last year which meant my children missed out on being with their friends.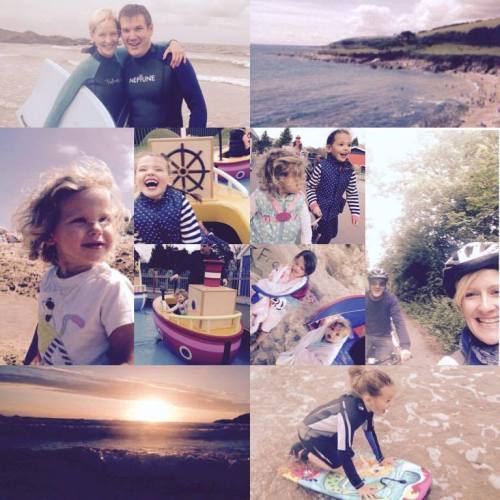 Our 2015, a year making memories
Now I'm a big believer in living life to the fullest, even more so since losing my dad, after all you only have one life so why not make the most of it, but it can be hard finding the right balance and you can so easily lose sight of the little things round you. I dare say for most of us this past year has let in the light of such good times and happy moments, but with that comes darkness too, we've had to say goodbye to friends, watch love ones get ill and go through their own struggles, and I doubt 2016 will be any different because after all that's life. Infact I know this year is going to be a tough one for us as a family so its even more so important for us to slow down life. Basically what I'm saying after all this tripe, is enjoy your year no matter what it brings to you, enjoy it, make the most of it and love it, before you know it it'll be 2017 and I will no doubt be re sharing the soppy blog.
Happy new year to you all and all that jazz
love
Mrs KnittyKnotts